ERIK: A Play About A Puppet
I directed this world premiere production for Rising Sun Performance Company as part of the 2015 Frigid Festival at the Kraine Theatre in New York City.
Featuring: Bryn Packard, Chris Behan, Destiny Shegstad, Matt Pepitone, Montana Lampert Hoover, Kervin Peralta, Samantha DeSimone & Yair Ben-Dor
From the original novel to the Lon Chaney silent film, to the Andrew Loyd Webber musical, and countless iterations in between, the characters of Leroux' novel have been twisted and turned like the sewer tunnels beneath a Paris Opera House.
Playwright John Patrick Bray explores the story from the vantage of an youth, beauty, image-obsessed 21st Century. With the moral ambiguity of a carnival side-show, he uses this terrific adventure/thriller/love story to celebrate the hick-ups, hang-ups and double standards we've simply stuck up on our cultural shelf.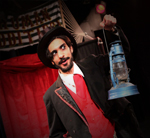 Scroll down for photos.