KING JOHN
I directed this production culminating in 16 outdoor performances in June, 2014. It was one of the most challenging and rewarding experiences of my directing career.
Let's be clear. There is nothing subtle about William Shakespeare's delightfully sprawling epic of royal woes entitled KING JOHN.
I am in love with this play. I love the audacity of King John. I love the excess of King John. I love the bombastic, rhetorical splendor of every character's ultimate want: to be loved, to be in control, to be respected, and when all is said and done, to have mattered. It is entirely unapologetic, and every choice made by every character is the biggest choice in that character's life. It is a play of extremes, and it is extremely entertaining.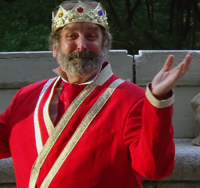 Scroll down for photos.
Contact me to request a copy of my adaptation of the script.