Plays for the Sunni Triangle

selected as

"It's pretty rare to see
a political piece that responds to events
in wholly original ways,

and audiences are as
likely to be offended as moved
by Bogard's work."

-- Anthony Nelson, NYTheatre.com

To read the Full Review click here.
---
Synopsis:
Three interlocking 10-minute plays, each drawing cross hairs on a different aspect of the Iraq War.
The first, An Army of Fun, is a dramatic play in verse. An army recruiter escorts a boy from his playroom of army-men to a real life as a desert grunt.


In the second piece, Just Your Average G.I. Joe, one soldier responds to America's fondness for yellow ribbons.


The third chapter is an absurd, farcical take on insurgency, terrorism, and anti-terrorism called My Big Fat American Jihad.
---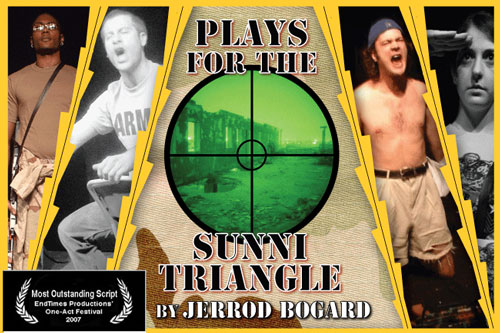 from left:
Ryan Love, Scott Voloshin,
Bennett Harrell, Sarah Flanagan