Jack and the Soy Beanstalk
Follow Jack up the beanstalk in this 45-minute musical romp featuring rock-n-roll, hip-hop, folk and opera!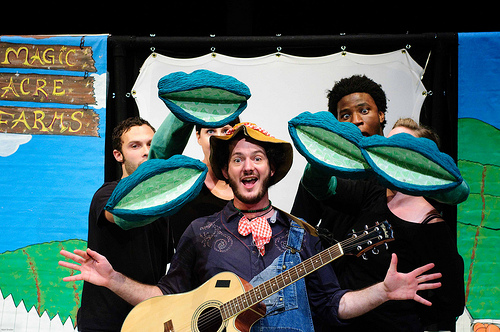 Sky Seals* as the Farmer flanked by (from left) Jake Paque, Laur Hall*, Okieriete Onaodowan, Brianne Mai.
5 - 7 actors.
Fabulous music!
Great entertainment for kids 3 to 103.
Filled with comedy, puppetry, and lots of heart, Jack and the Soy Beanstalk plants the seeds of self-reliance, conservationism, and good ol' American ingenuity.
Times have changed. Jack faces new obstacles on his journey-- like how to make his truck go without gasoline, his crop grow without fertile topsoil, and his mother to stop selling off his precious video games! Jack learns sometimes you have to take a leap of faith. But when you do, be prepared for anything- like maybe, oh, …a GIANT!
"wonderfully entertaining
for both the kids and the adults"
- StageBuzz.com full article
NOW IN PRINT from Baker's Plays!
GET YOUR COPY HERE
" does not disappoint on any level . . .
fast-paced and energetic "
- NYTheatre.com full article
" a rip-roaring good time musical with a light-hearted green message. This is a must see masterpiece for all ages. "
- TheaterOnline.com full article

" I give it an extreme happy face,
and so does my mom."
- Alfie Heinemann (age 10) , Hi! Drama